When you lose teeth, the bone in your jaw begins to deteriorate. Ridge augmentation can stop the problem and help to restore the contour of your jaw. People concerned about the loss of bone in the alveolar ridge or planning for dental implants and other dental procedures may need augmentation to restore the bone's integrity. By restoring the bone through ridge augmentation services, the bone can then support dental implants.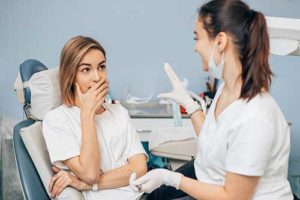 Of course, tooth loss isn't the only thing that can cause bone loss in your jaw. Other factors may include age or disease. The fact remains that the bone loss needs to be corrected to help you maintain correct alignment in your jaw and maintain your smile and jaw's appearance.
At Splendid Dental Atascocita, we can restore the bone and replace lost teeth with dental implants. Together, these procedures can accomplish all of the following:
Restore the beauty of your smile
Strengthen your bite
Improve your ability to speak
Allow you to chew food thoroughly
Boost overall oral health
Missing teeth can have a domino impact on your oral health. The more missing teeth and bone loss that occur, the more rapidly your oral health can deteriorate. Splendid Dental Atascocita can help you restore the bone and the missing teeth through ridge augmentation combined with dental implants.
What Is Ridge Augmentation?
Ridge augmentation is a service that helps to rebuild the lost bone in your jaw. When teeth are lost, the bone begins to diminish as it is resorbed into your body. Unfortunately, this occurs quickly after losing the tooth, with up to twenty-five percent of the bone lost within the first year and as much as sixty percent gone within three years of the loss.
Ridge augmentation helps to restore the lost bone. In turn, it helps to restore the height and structure of your natural jawline, creating fullness in your face and strengthening the bone so that it can support implants or the use of permanent dentures.
How Is Ridge Augmentation Performed?
Ridge augmentation is not a quick fix. It is a rather invasive procedure, albeit necessary for people planning to get dental implants. In this procedure, the gum is carefully removed from the ridge to determine the bone's damage. You will then have a bone graft to restore the natural contour that existed when teeth were in place. If the damage was extensive, a barrier membrane might be applied over the graft to shelter the graft while it heals.
While you can usually return to normal activities within a few days after your ridge augmentation, it can take several months for complete healing to occur and for the new bone to properly fuse to your ridge.
The good news is that the procedure's discomfort usually clears up within two weeks of the procedure, so the remaining six to nine months required for complete healing are relatively pain-free.
Why Choose Splendid Dental Atascocita for Your Ridge Augmentation Services?
Splendid Dental Atascocita has board-certified periodontists on staff that are fully qualified to handle procedures, like ridge augmentations and many more. We work with you and are happy to address any fears or concerns you may have before the procedure so that you are confident and comfortable going into the surgery.
We understand that some people feel some anxiety about procedures like this and want you to feel fully informed and calm going into the procedure. To this end, we offer sedation dentistry to help address these concerns. If you are considering ridge augmentation should call Splendid Dental Atascocita today at 713-244-7790 to discuss how we can help you with this important dental procedure.