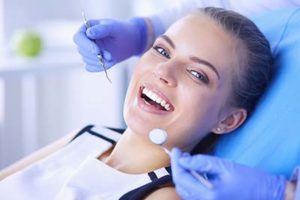 Splendid Dental offers innovative dentistry. Our entire team is dedicated to providing you with the highest level of dental work and exceptional customer service. Our mission is to preserve or restore the look and function of your teeth. We utilize advanced technology and modern techniques to take care of all your dental needs. To find out more about Splendid Dental Atascocita, contact us for a free consultation.
Our dental services include preventative, restorative, and cosmetic dental care. Whether you need a routine oral exam and cleaning or more extensive surgical care, we are here to provide comprehensive dental service. We offer dental work for children and adults through every stage of life.
Learn More About Splendid Dental Atascocita
Regular checkups, screenings, and cleanings are the best way to keep your teeth looking fantastic year after year. Splendid Dental Atascocita provides these and other dental services such as:
We use proven techniques combined with sanitary equipment in a relaxed setting so that you have a positive experience at our clinic. With Splendid Dental Atascocita, you no longer have to worry about how your smile. To find out more about Splendid Dental Atascocita, contact our clinic today!
Splendid Dental Atascocita's General Dentistry Services
We provide general dentistry services for your entire family. General services may include teeth cleaning, dental exams, fluoride treatments, sealants, root canals, extractions, fillings, crowns, bridges, and nightguards. We also offer partial or full dentures for both your upper and lower rows of teeth.
Do you have a phobia about going to the dentist? We understand your fear. One of the best things about Splendid Dental Atascocita is that we offer sedation dentistry before we perform a procedure. Sedation dentistry is ideal if you have sensitive teeth, a low pain threshold, a bad gag reflex, or an uncontrollable fear of dental work. Ask us about sedation and how it can help you get through any procedure.
Splendid Dental Atascocita's Specialized Dental Services
We incorporate specialized dental services with a focus on devices that correct your teeth or jawbone and fill in gaps where needed. Our specialists are highly trained and certified to perform a variety of dental procedures. This is one of the aspects of Splendid Dental Atascocita that sets us apart.
Some of our specialized dentistry services include:
Dental implants
Root canal work
Extractions
Orthodontics (Braces)
Oral surgery includes treatment for oral cancer, impacted teeth, and wisdom teeth. We consult with you to go over all of your treatment options. Feel free to ask questions and tell us your concerns. We want you to have the best experience possible at our dental clinic.
Splendid Dental Atascocita's Pediatric Dental Services
What do kids love about Splendid Dental Atascocita? We make a trip to the dentist more enjoyable and positive. We provide first-rate dental care during every stage of your child's development. From toddlers to adolescents, we can provide everything your child needs for strong, healthy teeth.
We encourage you to bring your child in for routine checkups, cleanings, and dental work. We can also provide your child with a full set of braces to correct any issues with their teeth or jawbone. Dental work is an investment in your child's dental health that can carry through into adulthood.
Schedule a Free Consultation Now at Splendid Dental Atascocita
We are here to help you when you need dental service. To find out more about Splendid Dental Atascocita, contact us online or call us today at 713-244-7790. Schedule a free consultation with a dental specialist.