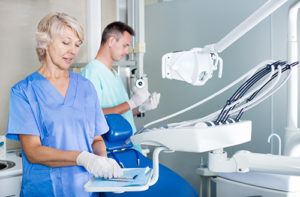 Splendid Dental Atascocita offers expert dental specialist services. We provide comprehensive dental work that ranges from oral exams to more advanced procedures. Whether you need preventative or restorative dental work or are looking for orthodontic services in Houston, Splendid Dental Atascocita has everything you need to take care of your teeth. Our specialty dental services include clear aligners, implants, endodontics, extractions, surgery, and periodontics. 
To find out more about all of our specialized services, contact Splendid Dental Atascocita for a free consultation.
Splendid Dental Atascocita's Specialty Dental Services
Our board-certified dentists take a customized approach to every client. We understand that your needs are unique. Let us know what type of work you want, and we will develop a dental plan that works for you. 
Some of the specialty dental services that we offer include:
Anxiety-Free Dentistry at Splendid Dental Atascocita
Fear of the dentist is normal for most clients. However, if you have an uncontrollable phobia or get anxious when you go to the dentist, we can help with our specialty dental services. We offer sedation dentistry options such as nitrous oxide, oral sedation, and IV sedation for oral surgeries. Sedation dentistry is good if you have sensitive teeth, a low pain threshold, or a bad gag reflex.
Sedation dentistry is also beneficial if you have severe anxiety about undergoing dental procedures. Our goal with dental specialist services is to ease your fear and provide a relaxed experience. When you feel better about going to the dentist, you are more likely to take care of your teeth.
Our General & Pediatric Dentist Services
Staying up-to-date on your general dentistry services is the starting point for maintaining good dental health throughout your life. Through your general dentist, your family members will be able to have routine dental checkups and teeth cleanings throughout the year. You also receive preventive care diagnostic services to help stop problems before they start.
Family Dentistry
Your growing child will see a pediatric dentist from infancy through their late teen years. These dental specialists have two years' additional years of training and residency beyond regular dental school. In addition, a pediatric dentist will help address any oral development problems, including a malformed bite or misaligned teeth. They will also help your child feel comfortable and relaxed at all dental visits, helping to form the foundation for a lifetime of healthy dental habits.
All of the Specialty Dental Services You Need at Lovett Dental
When you need specialty dental services to give you a beautiful, healthy smile, the best thing to do is to reach out to your Humble dentist for an appointment. We offer a range of specialty services and a variety of general dentistry services, such as:
Schedule Specialty Dental Services at Splendid Dental Atascocita Today
If you need specialized care for your teeth or gums, don't hesitate. Contact Splendid Dental Atascocita today. To schedule dental work, call us at 713-244-7790 for a free consultation with a dental hygienist. We want to provide you with the best specialty dental services possible.