Everyone needs to take care of their teeth. That is why the team from Splendid Dental Atascocita always recommends that people brush their teeth twice per day, floss once per day, and visit us twice per year for regular cleanings. At the same time, our office locations can handle tooth extraction procedures. We want to do everything we can to save the teeth of our patients. Please take a look at some of the information below to learn more about how we can help you with your oral health.
Why Do Dentists Perform a Tooth Extraction?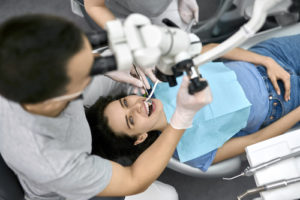 If you have been told that you need to undergo teeth extractions or a tooth removal procedure, there are a few reasons why this might be the case. Some of the most common reasons why we recommend tooth extraction include:
Your wisdom teeth are starting to come in, and they are causing serious symptoms, so they need to be removed.
There is widespread tooth decay present, and fillings are not going to save the teeth.
Your jaw is too crowded, and teeth overlap each other.  This puts your oral health at risk, so teeth need to be removed.
There is a widespread gum disease threatening the tooth's integrity, so it has to come out.
According to information that has been published by the Centers for Disease Control and Prevention (CDC), close to ten percent of adults over the age of thirty years show signs of widespread severe gum disease. We will do everything we can to treat this issue and save the teeth. Yet, sometimes a tooth extraction is necessary.
Common Concerns Before Teeth Extractions
If you have been told that tooth removal is necessary, you probably have a few questions. Some of the most common questions that we hear include:
Pain level: The good news is that tooth extraction is not usually painful. We use both local anesthesia and general anesthesia, if necessary, to make sure that everyone is as comfortable as possible.
The number of teeth to be extracted: In most cases, individuals only require one tooth to be removed. If more than one tooth has to come out, we will let you know well in advance.
Length of recovery: The recovery process will depend on the number of teeth that have to be removed and whether we perform a simple extraction or a surgical extraction. We will talk with you in detail about the recovery process before the procedure.
We will take the time to answer all of your questions before the procedure takes place. Count on the team at Splendid Dental Atascocita to help you.
The Recovery Period Following Tooth Extraction
There are a few tips that we recommend to everyone when it comes to tooth extraction recoveries. Some of the most important tips include:
Consider applying an ice pack to your mouth in ten-minute intervals to control the swelling and discomfort.
Do not drink from a straw for at least forty-eight hours as this could dislodge the blood clot, leading to bleeding.
Do not smoke before or after a tooth extraction, as this can impact the recovery process.
Try to avoid strenuous activity on the first day following the procedure.
If you have any questions or concerns, we do provide emergency services to address them. Remember that we are always here to help you.
Contact Splendid Dental Atascocita for All Tooth Extraction Needs
Our dental team is here to help you with all of your oral health needs. This includes preventative care and emergency care. Please give Splendid Dental Atascocita a call at 713-244-7790 today to make an appointment with a dentist from our office.