If you're seeking orthodontic treatment but don't want to commit to braces, invisible teeth aligners could be a perfect choice. Many of our adult patients and some teens opt for treatment with clear aligners. Clear aligners move your teeth slightly, and treatment times can take as little as one year. Our patients have expressed how happy they are with their new smiles that we offer as part of our orthodontics services.
How Invisible Braces Work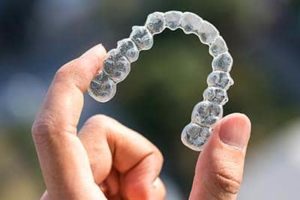 Invisible teeth aligners work through a series of plastic trays. Worn for up to three weeks each, the trays slowly move the teeth. Only a fraction of a millimeter of movement per aligner helps make clear aligners a comfortable option. Many patients can achieve great results with clear aligners. Our orthodontist will evaluate your case and make a recommendation that will provide you with the best results. For patients that have the following conditions, invisible teeth aligners are a smart choice:
Underbites
Overbites
Crossbites
Crowding
Spaces
Advantages of Choosing Clear Aligners
Of course, many people love clear aligners because you can correct the alignment of your teeth without showing the world that you are doing so. If you missed out on braces as a child, invisible teeth aligners are an exceptional option for adult orthodontics.
Aside from the cosmetic benefit of a virtually undetectable appliance, there are other advantages when you choose clear aligners. Since the aligners are removable, eating and drinking are easier for most patients than with traditional braces. Some people report that since the process of moving the teeth is slower, there is less pain. It's important to consider that individual results and pain tolerance are variables that factor into each patient's experience. Many insurance plans cover a portion or all of the cost for clear aligners as they would for other orthodontic services. For those that finance the cost, the pricing is similar to that of metal or ceramic braces.
Patients can treat both the upper and lower teeth with clear aligners. Since the appliances are removable, dental hygiene doesn't have to suffer as it can in some patients with non-removable orthodontic appliances. There's also nothing to break and not nearly as many dietary restrictions. The treatment time with clear aligners is similar to other orthodontic appliances, and patients will typically see results in as little as twelve to eighteen months.
Invisible Braces: A Great Option for Adult Orthodontia
When using invisible teeth aligners, they must be worn at least twenty-two hours each day. That means that they should only be taken out for meals and brushing your teeth. Older teens and adults are the best candidates for clear aligners, and parents can ensure that their child is wearing their aligners with a discreet blue dot. It's also important that follow-up visits and routine dental appointments are kept to ensure adequate progress and results.
Splendid Dental Atascocita provides a free consultation to determine if you'd be a good candidate for clear aligners. We'll help with your insurance or obtaining approval for financing. Orthodontia via clear aligners is one of our highest patient satisfaction services, and it could produce the smile you've been looking for.
We also offer:
If you'd like to find out more information or schedule your free consultation today, contact Splendid Dental Atascocita by either calling 713-244-7790 or completing our secure online form.